PUBLICATIONS
PUBLIKATIONEN
PUBLICATIONS
PUBBLICAZIONI
PUBLIKACIJE
Phainomena 32 | 124-125 | June 2023
Passages | Prehodi
Authors: Alfredo Rocha de la Torre | Miklós Nyírő | Dario Vuger | Ming-Hon Chu | Maxim D. Miroshnichenko | Jaroslava Vydrová | Malwina Rolka | René Dentz | Igor W. Kirsberg | Izak Hudnik Zajec | Primož Turk | Adriano Fabris
Phainomena 31 | 122-123 | November 2022
Cathrin Nielsen – Hans Rainer Sepp – Dean Komel (Hrsg. | Eds. | Dirs.)
Eugen Fink
Annäherungen | Approaches | Rapprochements
Authors: Cathrin Nielsen | Hans Rainer Sepp | Alexander Schnell | Giovanni Jan Giubilato | Lutz Niemann | Karel Novotný | Artur R. Boelderl | Jakub Čapek | Marcia Sá Cavalcante Schuback | Dominique F. Epple | Anna Luiza Coli | Annika Schlitte | István Fazakas
Phainomena 31 | 120-121 | June 2022
Andrzej Wierciński & Andrej Božič (Eds.)
"Hermeneutics and Literature"
Authors: Andrzej Wierciński | John T. Hamilton | Holger Zaborowski | Alfred Denker | Jafe Arnold | Mateja Kurir Borovčić | Kanchana Mahadevan | Alenka Koželj | William Franke | Monika Brzóstowicz-Klajn | Julio Jensen | Małgorzata Hołda | Ramsey Eric Ramsey | Beata Przymuszała | Michele Olzi | Simeon Theojaya | Sazan Kryeziu | Nysret Krasniqi | Patryk Szaj | Monika Jaworska-Witkowska | Constantinos V. Proimos | Kamila Drapało | Andrej Božič | Aleš Košar | Babette Babich
Phainomena, 30, 118-119, 2021
Authors: Sebastjan Vörös | Aleš Oblak | Hanna Randall | David J. Schwartzmann | Lech Witkowski | Martin Uranič | Matija Jan | Wei Zhang | Dragan Jakovljević | Martín Prestía | Alfredo Rocha de la Torre | Dean Komel | Christophe Perrin | Mario Kopić
Europa östlich des Westens. 30 Jahre Transition. Quo vadis?
Europe East of West. 30 Years of Transition. Quo vadis?
Mira Miladinović Zalaznik – Dean Komel (Hrsg. | Eds.)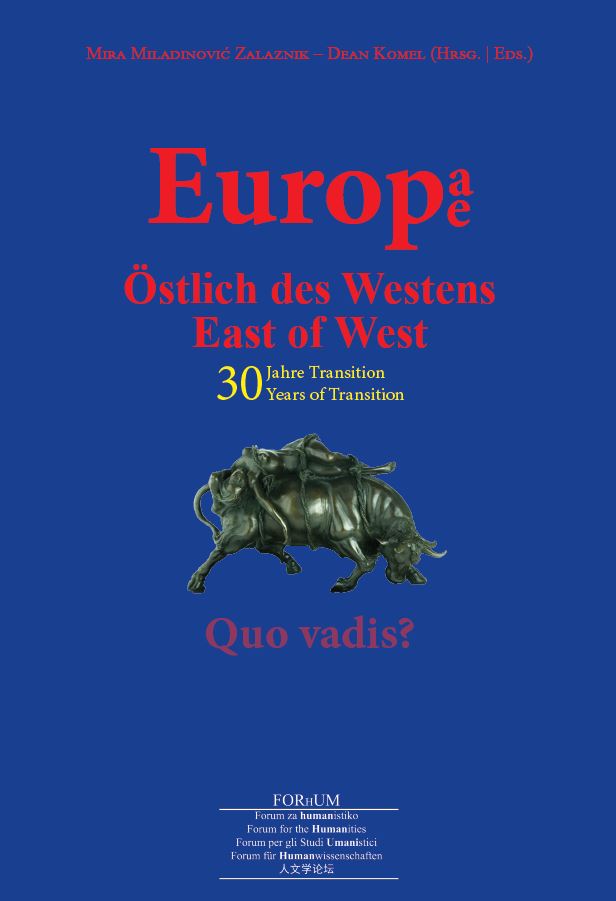 Phainomena 30 | 116–117 | April 2021
Andrej Božič (Ed.)
"The COVID-19 Crisis"
Authors: Andrej Božič | Daniel R. Sobota | Svetlana Sabeva | Jarosław Gara | Victor Molchanov | Silvia Pierosara | Veronica Neri | Uroš Milić | Zmago Švajncer Vrečko | Paulina Sosnowska | Lea-Marija Colarič-Jakše | Holger Zaborowski | Hans-Georg Gadamer | Polona Tratnik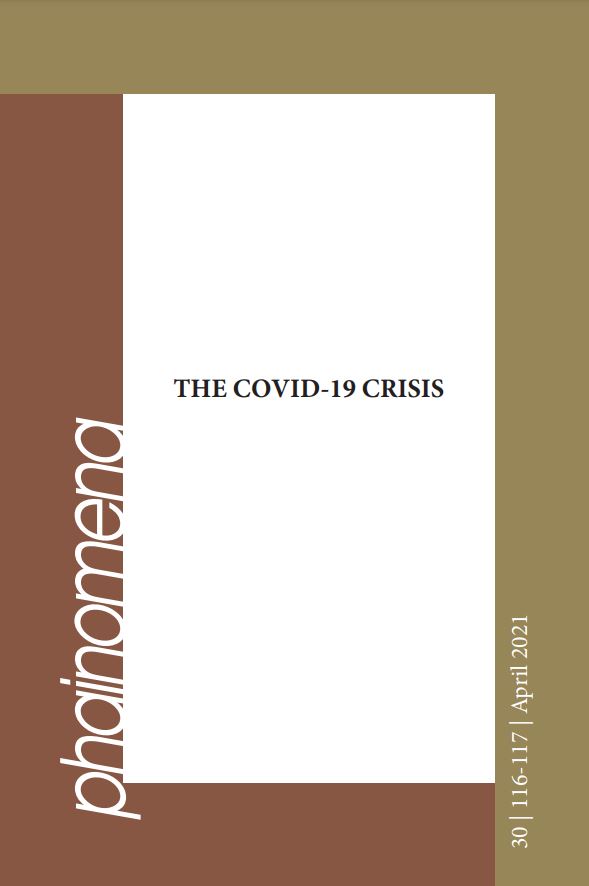 Vom Kommunismus zur Demokratie
Die kommunistischen totalitären Regime, die sich im Laufe des 20. Jahrhunderts in Europa etabliert haben und zerfallen sind, hinterließen Millionen von Opfern. Was noch aussteht, ist eine gründliche historisch-kritische Auseinandersetzung mit diesen Regimen und den verübten Verbrechen, denen eine massive Nichteinhaltung von Menschenrechten und Grundfreiheiten vorausgegangen ist.
Der Kommunismus als Ideologie ist immer noch präsent. Er perpetuiert sich in den linksradikalen politischen Parteien in ganz Europa. Sein Charakteristikum ist eine erhebliche revolutionäre Aggressivität, die als eine von Arten der Machtübernahme jegliche  demokratische Form der politischen Tätigkeit ignoriert. Diese Konstellation zeigt sich sowohl in den Beziehungen innerhalb der EU als auch im Verhältnis der EU zu den in der Welt nach wie vor existierenden totalitären Regimen, die auf dieser Ideologie fußen und daran festhalten.
Die Beiträge im Werk Vom Kommunismus zur Demokratie sind Fallbeispiele, die am Paradigma Sloweniens Folgendes erörtern:
Wie die Kommunistische Partei Jugoslawiens / Sloweniens entstanden ist und wie sie sich Ende der 1980er Jahre als eine scheinbar sozialdemokratische Partei präsentiert hat.
Wie der Gerichtsprozess gegen einen revolutionären, hohen politischen Funktionär der Kommunistischen Partei Jugoslawiens und Sloweniens, erst 2005 wegen der nach dem II. Weltkrieg verübten Massenmorden angestrengt, zu keiner Verurteilung des Täters geführt hatte.
Wie einer 30 Jahre andauernden Gegenüberstellung von demokratischen Prinzipien in der Republik Slowenien einerseits und von Resten des totalitären Regimes in der Politik des Landes mit dessen Systemen und Subsystemen andererseits beizukommen wäre.
Autoren: Prof. em. Dr. Lovro Šturm, ao. Prof. Dr. Jernej Letnar Černič, Tomaž Zalaznik
Herausgeberin: Prof. Dr. Mira Miladinović Zalaznik
Verlegt und herausgegeben von: Inštitut Nove revije, zavod za humanistiko und Inštitut Karantanija, Ljubljana, Slowenien
176 Seiten, € 19
Europe at the Crossroads of Contemporary World, 100 Years after the Great War
Europa an den Scheidewegen der gegenwärtigen Welt, 100 Jahre nach dem Großen Krieg
100 years after the end of the First World War, Europe stands at the crossroads that burden it immensely, and at the same time somewhat hinder planning and deciding for its future. This is not the case only in regard to the state of affairs within the EU, but also to the circumstances defining its global position. Therefore, the conference intends to question our relation to the past and critically reassess it in the perspective of a common future.
Europa befindet sich 100 Jahre nach Ende des Großen Krieges an Scheidewegen, die es sowohl stark beanspruchen als auch bei Planungen und Entscheidungen für die Zukunft aufhalten. Das ist nicht nur in Bezug auf Sachverhalte innerhalb der EU der Fall, sondern auch in Bezug auf Verhältnisse, die seine globale Position bestimmen. Aus diesem Anlass wird auch unser Verhältnis der Vergangenheit gegenüber hinterfragt, das aus der Perspektive einer gemeinsamen Zukunft kritisch beleuchtet gehört.
Phainomena 29, 114-115, November 2020
Authors: Petar Šegedin | Maxim Miroshnichenko | Dino Manzoni | Andraž Dolinšek | Manca Erzetič | Michał Wieczorek | Joaquim Braga | René Dentz | Tea Golob
Phainomena, 29, 112-113, June 2020
Authors: Bence Peter Marosan | Christian Ivanoff-Sabogal | Virgilio Cesarone | Daniel Ross | Rok Svetlič | Fabio Polidori | Patrick M. Whitehead | Zmago Švajncer Vrečko | Mirt Komel | Marijan Krivak | Jonas Miklavčič | Polona Tratnik | Timotej Prosen | Tonči Valentić | Andrej Božič | Małgorzata Hołda | Mario Kopić
Phainomena, 28, 110–111, November 2019
Authors: Andrzej Wierciński | Michał Federowicz | Daniel R. Sobota | Jarosław Gara | Oreste Tolone | Carmelo Galioto | Mindaugas Briedis | Małgorzata Hołda | Urszula Zbrzeźniak | Katarzyna Dworakowska | Anna Zielińska | Anna Wiłkomirska | Paulina Sosnowska | Tomaž Grušovnik | Jernej Kaluža | Ramsey Eric Ramsey | Tina Bilban | Andrej Božič
Phainomena, 28, 108–109, June 2019
Authors: Wei Zhang | Marco Russo | Alfredo Rocha de la Torre | Marko Markič | Veronica Neri | Jožef Muhovič | Jurij Selan | Tonči Valentić | Žarko Paić | Brane Senegačnik | Dragan Prole | Petra Kleindienst | Uroš Milić | Luka Đekić | Matija Jan | Dario Vuger | Tomislav Škrbić | Wilhelm von Humboldt | Hans-Georg Gadamer | Damir Barbarić | Dean Komel
Mira Miladinović Zalaznik – Dean Komel (Eds.):
Freiheit und Gerechtigkeit als Herausforderung der Humanwissenschaften
Freedom and Justice as a Challenge of the Humanities
Peter Lang Verlag, Bern 2018.
The humanities represent the foundation of the cultural-civilizatory heritage of contemporary world. However, it seems that the socio-economic development and techno-scientific progress have on a global level forced them to the margins of society, and weakened their role in education, culture, and research. The confrontation with current social crises, which have affected our understanding of freedom and justice, motivates a renewed awareness of the importance of humanistic tradition for the acceptance and creation of a common future, as well as for the recognition of diversity of the world and dignity of the individual. Contributions by 22 authors in the collective volume of the Forum for the Humanities discuss the significance and perspectives of the humanities today.
Phainomena, 27, 106–107, November 2018
Authors: Peter Trawny | Adriano Fabris | Jožef Muhovič | Jeff Malpas | Kentaro Otagiri | Ugo Vlaisavljević | Wei Zhang | Eleni Leontsini | Gašper Pirc | Fernando Manuel Ferreira da Silva | Yichun Hao
Phainomena, 26, 102–103, November 2017
Authors: Michael Marder | Andrzej Gniazdowski | Babette Babich | Virgilio Cesarone | Jesús Adrián Escudero | Trong Hieu Truong | Victor Molchanov | Cathrin Nielsen | James Mensch | Massimo De Carolis | Ľubica Učník | Urszula Zbrzeźniak | Andrej Božič
Institute Nova Revija for the Humanities
Telephone:
+386 12444560
+386 12444587 (Andrej Božič)
Forum for the Humanities (FORhUM) operates under the auspices of Institute Nova Revija for the Humanities (INR; Ljubljana, Slovenia), the activities of which are financially supported by the Slovenian Research Agency (ARRS; Ljubljana, Slovenia) within the research program P6-0341, the research project J7-8283, and infrastructure program I0-0036.